We Specialize in Wedding Receptions and Ceremonies, Birthday Parties, Religious Celebrations, Anniversary Parties, and Professional Business Meetings. Here at Heritage Harbor , we are prepared to provide you with the highest standard of personalized service, and an outstanding variety of menu items from which to choose.  No matter what the occassion or size, our staff will make your day a memorable one.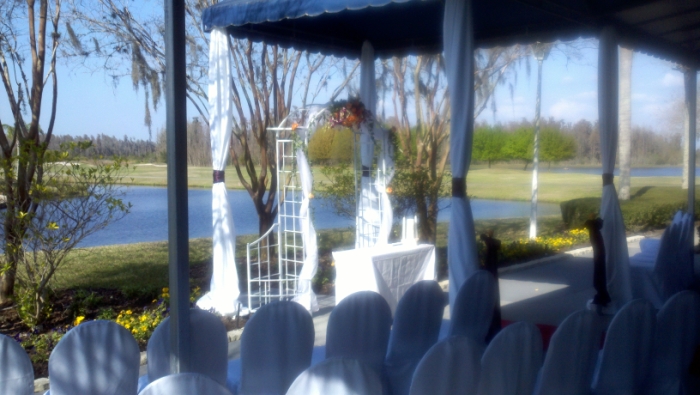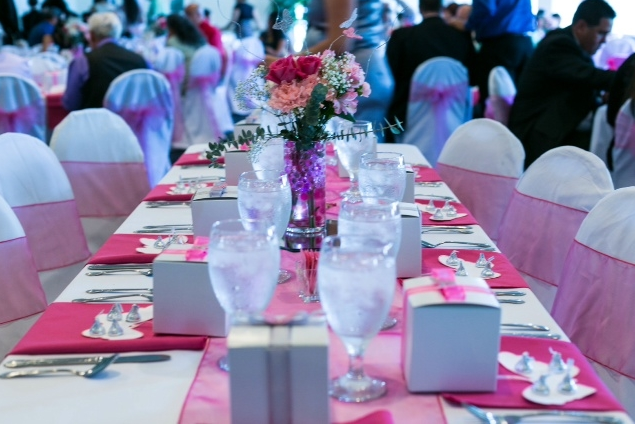 For weddings, Heritage Harbor can offer the intimacy and charm that creates a day to remember for the bride and groom. There are scenic views from the clubhouse of the waterways and wetlands; the golf course itself can be used as the velvety green backdrop for a ceremony or for memorable photos of the wedding party. The 11,000-square-foot clubhouse with its Gulf Coast plantation style and nautical feeling has rooms with country-contemporary style furnishings and decorative touches that can make guests feel as if they're in a home rather than a banquet area.
Up to 210 seats can be accommodated for events in our clubhouse . Our Culinary Staff can customize a menu to fit any and all tastes, while keeping in mind budgetary concerns.
Testimonials
"I can't begin to thank you enough for everything you did to make my son's wedding event so special.  We had a wonderful time and all because of you and your staff.  I'm sure you will be seeing Ron and I for dinner and drinks. I will make sure to recommend you to all my friends and clients that need to host an event.  Again, thank you so very much. Sincerely, Grace"
"The event was fabulous and everything was perfect!  Morgan had the best time.  We couldn't have asked for a better evening.  Thank you so much!" – Stacy
"To all of the fabulous people that helped make our Wedding the most precious day in our lives – We wanted to send a special token of our appreciation to you all. We are so blessed to have had each and everyone one of you as a part of our day! We can't stop talking about how perfect the day was. There was not a detail that went unnoticed. Words will never be able to express how grateful we are. Thank you. If you ever need a personal reference please think of Josh and I first. We are your #1 fans! "
"Just a word of thanks for the superb effort of all staff that was a part of  our Wedding day! The food was fantastic, and a special thanks for everyone that helped our event run so smoothly"
"The success of our Dinner at Heritage Harbor Golf and Country Club was in a large way dependent on your perfect room  arrangements, the excellent food and the superior service provided by your friendly and professional staff.  All due to your personal attention to details, creativity and professional managerial skills.  We could not have asked for more from you."
"I just wanted to thank you and your staff again for everything! We had such a good time at our wedding and we owe a lot of that to you all : ) It was a pleasure working with you and would recommend Heritage Harbor to everyone we know"
"Thank you for all that you assisted us with during our wedding planning process. It was a day that we will never forget! The day surpassed all expectations and all of our guests could not stop talking about the great time they had. We thank you for making our dream come true!"
"Thank you so much for being so easy to work with throughout our wedding planning process. Everyone was so accommodating  and we were happy to bring our family and friends to Heritage Harbor"
For more information on planning the perfect party at Heritage Harbor, call us at 813-949-6841 or email for a quick quote to hhccinfo@gmail.com or even Click Here to request more information.